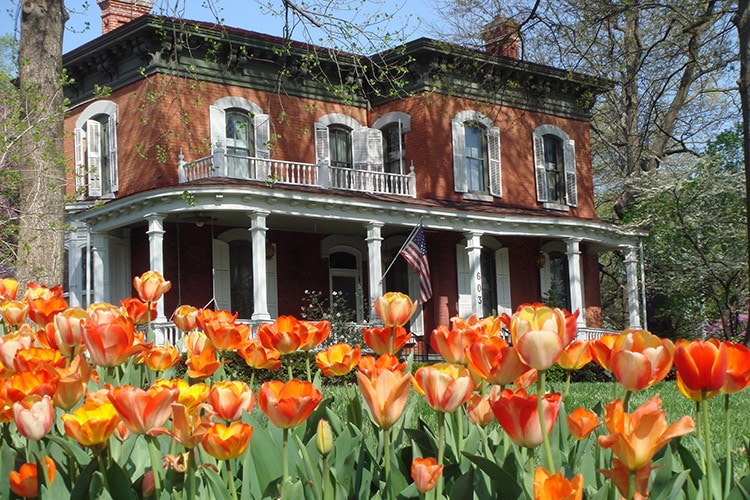 The Historic Charms
of Old West Lawrence.
Old West Lawrence, also known as OWL, is one of our most historic neighborhoods. In the town's early days, the "who's who" of Lawrence lived here. The oldest homes survived Quantrill's raid. "Newer" homes were added when the area experienced a rebuilding-boom from 1880-1930. In recent years, OWL has reclaimed its prominence as the preferred place for many KU professors and deans, doctors, lawyers, and other influential Lawrence residents.
Recognized across the country, the area's Queen Anne, Tutor, and Italianate homes are eye-catching and memorable for their grandeur and quality craftsmanship. The charming details, varied architectural styles, and graceful front porches invoke a feeling of nostalgia as you drive or stroll through. Lined with lovely old trees that have weathered their share of storms, many of the streets and sidewalks feature original bricks.
Old West Lawrence was the first national historic district designated in Kansas, and many structures in the neighborhood have been meticulously maintained or refurbished to their original splendor. You can find some of our city's most notable and unique homes here, even after years of the town's westward expansion. Interest in the neighborhood remains strong as residents have prioritized the preservation of curb appeal, historical integrity, and interior beauty. Pride of ownership also spills into the yards and streets where OWL is known for its friendly neighborliness and sense of place. 
Old West Lawrence is generally bordered by 6th and 9th streets on the north and the south and Michigan and Kentucky streets on the west and east. The OWL Association has a website, an annual picnic, and publishes a newsletter two or three times a year. Although some have rooms for rent and others are available on long-term leases, this area has mostly single-family homes. To learn more about OWL and our city's rich history, visit the Watkins History Museum.
Stephens Real Estate is ready to help you find your perfect home in your ideal neighborhood. Our agents know the Lawrence market, and they have the experience and the connections to help you find the home that's right for you.