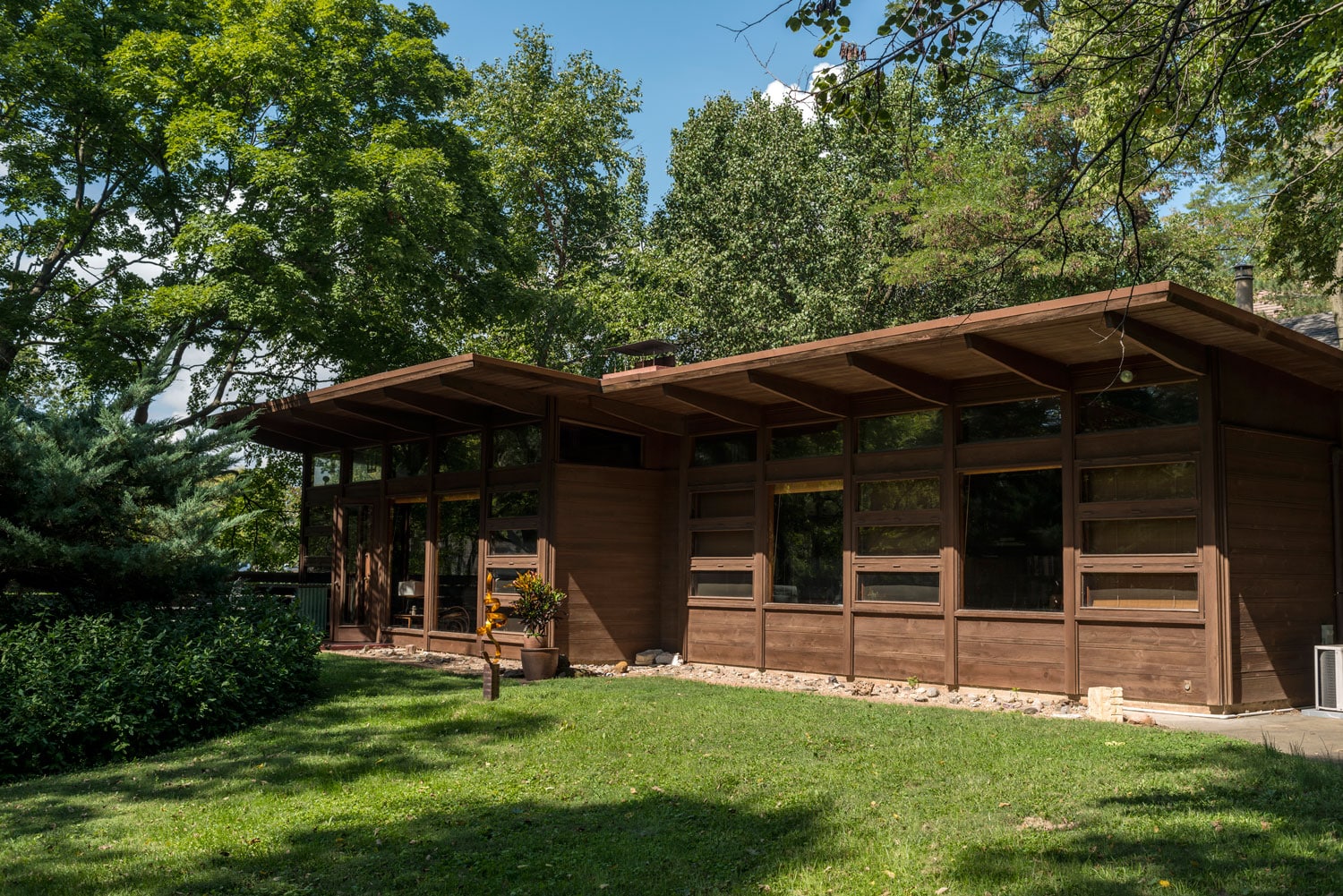 Mid-Century Modern Homes in  Lawrence.
You could call it a comeback, a rebound, or a renaissance. It seems that all things mid-century modern regained popularity in recent years.
Many mid-century homes, built from 1945 into the late 1960s, are characterized by strong horizontal lines, open floor plans, and a seamless flow between interior and exterior spaces. Designs from that period highlight natural materials such as tar and gravel roofs, regional stone, exposed wood, large panes of glass, abundant storage, and whimsical space-age light fixtures and hardware. They are beautifully simple dwellings meant for people to live and enjoy nature rather than grand structures built to display the owner's affluence.
We frequently see mid-century modern's influence on HGTV, commercials, and movies. What is it that we find so appealing? Perhaps we yearn for spaces with less "stuff." Conceivably it could be a desire to live more closely with nature. Or maybe we want to be "cool," like the folks on the 60s-era show Madmen. Whatever the reason, it is important to note that Lawrence has a nice collection of mid-century homes.
Several years ago, Lawrence Modern, founded by our own Tom Harper in collaboration with Bill Steele, Tim Hossler, and architectural historian Dennis Domer, conducted an extensive survey of mid-century houses in Lawrence. Of the thirty-three homes considered, they chose to highlight a "Baker's Dozen." Most of these homes were designed by architects and constructed by local builders. Ranking highest on the survey, the Beal House designed by George Beal, Chair of the KU Architecture Department, is now on Local, State, and National Historic registers as a significant example of midcentury modern and Usonian architecture. 
Beal, an apprentice, and friend to Frank Lloyd Wright, is a pivotal reason Lawrence has so many interesting mid-century homes. During his time at KU, the School of Architecture taught modern design principles to countless young architecture students. Serving as his residence, The Beal home, located south of campus, is positioned, so the overhangs of the roof shade the house in summer. The glass panes on the southern side collect the sun's rays in winter, effectively maximizing active/passive solar heating. This home, as every home in the Baker's Dozen, has a unique and interesting story. We think it is well worth your time to visit lawrencemodern.com.
Interestingly, Lawrence Modern also rediscovered and researched a couple of modest midcentury subdivisions in town; one off of Ousdahl Road between 19th and 21st streets, another south of 9th Street on Madeline and Murrow. Known as "Space Homes," they were built by Topeka builder John "Church" Sargent during the mid-1950s. He hired architect James R. Cushing to develop plans with post-and-beam construction, open floor plans, vaulted ceilings, and natural materials. The exteriors are varied with differences in roofs, entrances, finishes, and colors, but the interiors are similar. These "modern" houses were available to Lawrence homebuyers at affordable prices – most sold for $15,000 or less.
Many architects during the 1950s-1960s embraced clean lines and open spaces, inviting natural light to flow through glass walls and doors. Form and function were important and sometimes in harmony. Perhaps that's why these homes are so appealing to us more than half a century after being built. Our world is very hectic these days. Coming home to a space that cuts out the unnecessary and connects us to nature may be just what we need.
No matter the style, we understand the importance of home as your shelter, sanctuary, and place to gather with those you love. Ready to find your home? Start with Stephens.