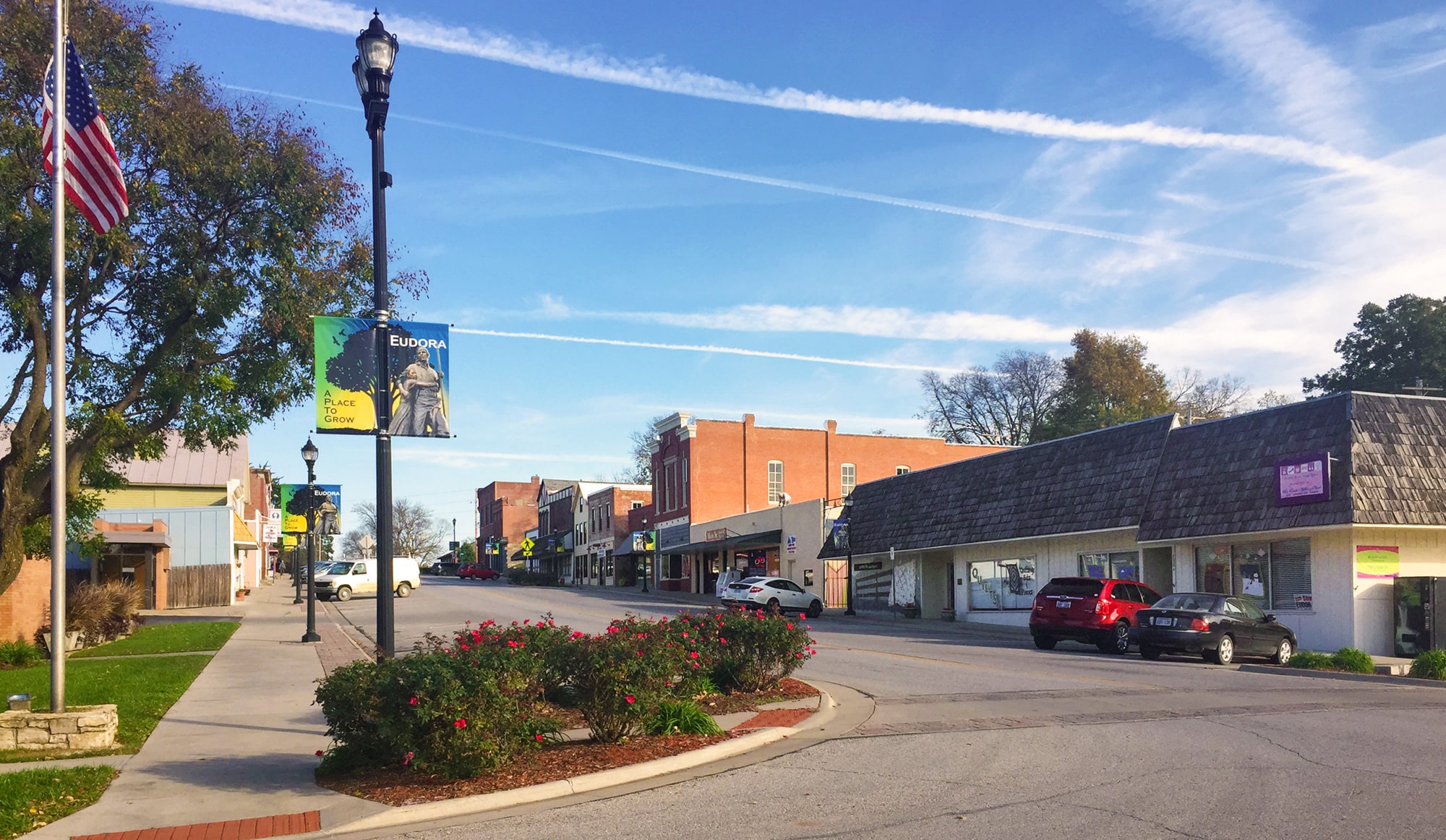 You Can Find Adventure and History in Eudora.
At the crossroads of hometown heart and unique adventure, Eudora, Kansas, is more than meets the eye. Located near the Kaw and Wakarusa rivers, Eudora offers great outdoor adventure options, rich agritourism, historic charm, and opportunity for developing local businesses. Its location on the K-10 corridor provides easy access to both the college-town creativity of Lawrence (home of the
University of Kansas) and the Kansas City Metro area's big-city playground. Whether you are looking to plan an excursion of wine-tasting, biking, hiking, or looking for a fun activity for kids and family– you can find it in Eudora!
The City of Eudora maintains a nice community center, including a fitness room, gym, kitchen, outdoor pool, meeting rooms, and indoor walking track. Fitness classes and sports round out the offerings.
Eudora has an intriguing history that predates American settlement. The Eudora Community Museum, operated by The Eudora Area Historical Society, has exhibits devoted to the town's history. Displays include information about the Shawnee Indians, Western Expansion, the Oregon Trail and the Civil War, Eudora's African-American Community, and the Sunflower Ammunition Plant.
The CPA Picnic, held every July, is a three-day celebration that began as a picnic to honor those who protected Eudora from cattle rustlers and horse thieves in the late 1800s. EudoraFest, the annual fall celebration, is held on the first Saturday in October. With crafts and art displays, food, music, a garden tractor pull, and car show, and activities planned throughout the day, EudoraFest is fun for everyone.
No matter where you choose to live in Douglas County, Stephens Real Estate is ready to help you find your perfect home. With offices in Lawrence and Baldwin City, our team of real estate professionals is second to none. Ready to buy or sell? Start with Stephens.
Fun Fact:
One of the greatest TV dads of all time, Ward Cleaver from Leave it to Beaver, was played by Eudora native Hugh Beaumont.
Content source: Eudora Convention & Visitors Bureau